The African Cup of Nations, AFCON, the continent's biggest football showpiece is underway in Egypt. It kicked off on June 21 after a spectacular opening ceremony.
Hosts, Egypt, went on to beat Zimbabwe by a lone goal in the first game of the tournament. Matches continue to played across the six groups and Africanews is keeping you up to date with the very latest.
As the games proceed we will use "Q" to indicate teams that have qualified for the knockout stage.
GROUP A: Egypt (Q) – DR Congo (Q) – Uganda (Q) – Zimbabwe
GROUP B: Nigeria (Q) – Guinea (Q) – Madagascar (Q) – Burundi
GROUP C: Senegal (Q) – Algeria (Q) – Tanzania – Kenya
GROUP D: Morocco (Q) – Ivory Coast (Q) – South Africa (Q) – Namibia
GROUP E: Tunisia (Q) – Mali (Q) – Angola – Mauritania
GROUP F: Cameroon (Q) – Ghana (Q) – Benin (Q) – Guinea-Bissau
First round of AFCON 2019 group fixtures: Goals, facts etc. [Analysis]
LIST

: Round of 16 pairings

July 5: Uganda vs. Senegal in Cairo
July 5: Morocco vs. Benin in Cairo
July 6: Egypt vs. South Africa in Cairo
July 6: Nigeria vs. Cameroon in Alexandria
July 7: Madagascar vs. DR Congo in Alexandria
July 7: Algeria vs. Guinea in Cairo
July 8: Mali vs. Ivory Coast in Suez
July 8: Ghana vs. Tunisia in Ismailia

View image on Twitter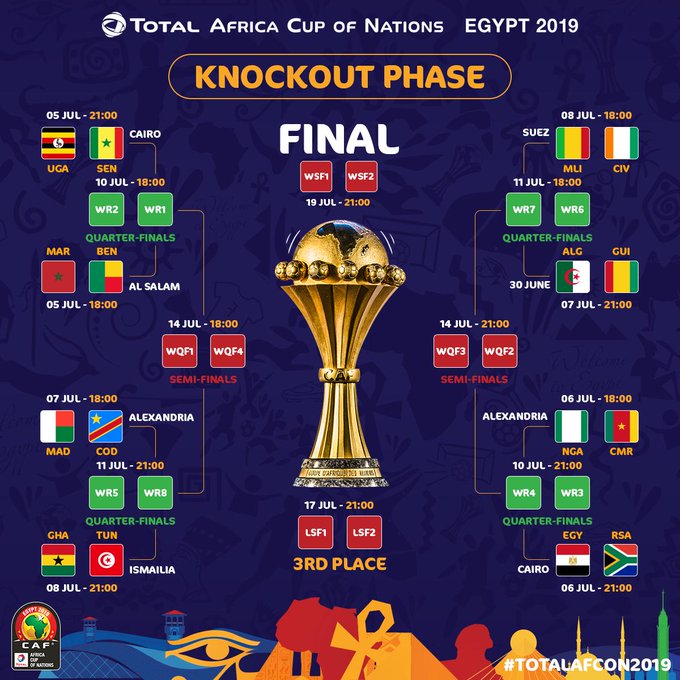 Africanews